It's ready! My new album is entitled "Almost Home."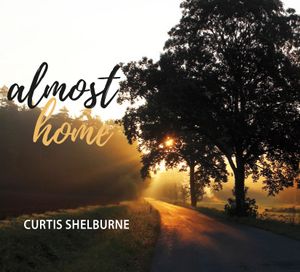 To order it right now, just click on the CONTACT button at the top of this page, tell me what you want, give me your mailing information, and I'll be happy to send it your way with an invoice. (I'm working on the ordering links on this site, but using "Contact" is the  easy way to order now.)
The album is available as a CD for $20.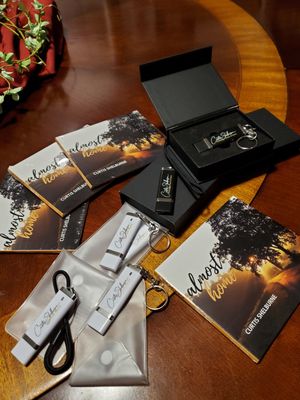 The album is also available in USB flash drive/thumb drive format for your car and/or computer. 
USB flash drives with the complete Almost Home album and a BUNCH of additional stuff--cover/liner pics & notes, photos, videos, blog posts, podcasts, audiobook chapters, and MORE are $30.
AND I've produced a USB flash drive with ALL FOUR of my albums, including the new one, all the covers, all the other stuff on the smaller USB and MUCH, MUCH more, that sells for $50. Quite a deal!
All prices include tax where applicable. Shipping & handling is $3 for the first item, $2 for each additional--and caps at $10 max.
More Info:  The recording sessions were amazing! Most of these folks have worked on Grammy Award-winning albums, and I could continue sharing their amazing accomplishments! Another truly amazing experience! Steve Dady, the owner and engineer at Sunset Blvd Studios, is incredible! I can't say enough good about Darrell Bledsoe, my producer, and this is our fourth album together! Ted Wilson did a superb job arranging a beautiful version of "Abide with Me." And the other songs range from great old hymns, sweet ballads, fun gospel songs, etc., and some with a decidedly Celtic feel (which I love!).

My daughter-in-law Amy is featured on one sweet duet, "Come Thou Fount of Every Blessing." I love singing with Amy and would never consider doing an album without her! She sings so beautifully! Twelve songs, total, make up the album. What a blessing! (And thanks, as always, to my wife Juana, for her incredible support!)

I hope the album reminds you of the sweet songs of "home" as you hear and recall these beautiful tributes to God's love. And I hope your eyes will be turned also to our true, our genuine, Home. All of us, and it takes many, working on this project pray that His joy will be found in every note sung and played on this album.

*******

Thank the Lord indeed, the pandemic numbers are receding. In fact, our area is opening up wonderfully! That means, among much else, CONCERTS! If you're interested in a program for any venue--large, small, church or other group, or just a concert at your home for some friends, just send me a message or email! 

A gift to you is available right now, even though it's not Christmas, if you just click on "Store" and go to "One Christmas Night." Scroll down to "Mary, Sweet Mary" and it's available for you free! This is definitely one of my favorites of the songs I've recorded, not least because I got to sing it with my daughter-in-law, Amy! It's my gift to you.

A "sample" page of other songs has been added on this site. I hope you'll check it out! Among them are some more of the American Songbook classics, such as some I've been privileged to sing at Lubbock's Cactus Theater. Just click on "Samples" at the top of this page. 

Sample tracks from each of my professionally recorded CDs are here on the website for you to check out! And the CDs are available for sale here all year around! 

By the way, if you'd like to look at some pics we took while recording, and also some photos from various concerts, just click on "Photos."

Recording an album is an amazing process! It's some of the hardest, most fun, work I've ever done! Darrell Bledsoe, my friend and producer, did a great job on each of these albums. The new album was recorded, as was my "For Sentimental Reasons" album, completely in Nashville at Steve Dady's incredible  "Sunset Blvd Studios." For the Christmas album, we recorded live instrumentals for 10 songs at Rushing Wind Studios in North Carolina. All the vocals, mine and the background vocals, were recorded at Glenn Storlie's amazing Covenant Recording in Amarillo, where the "mixing" was also done. All my vocals (and Amy's) for the first album were recorded at Covenant Recording. 

What a blessing to get to work with some great folks and fine friends all up and down the line! Thanks so much for your support that makes all of this possible!

Thanks for visiting!